Cathy's going to Everest? What?
Hi Family and Friends,

As some of you may know, I am heading to Nepal in October this year, joining an Australian-based charity group Eye4Everest. We will be going for 3 weeks, travelling from Kathmandu towards Everest Base Camp. During this trek we will be visiting some of the rural villages in the mountain range to provide primary Eyecare to the local people.

As some of you may also know, I am very much a city girl who has not had any camping experience, and have only recently own a pair of proper hiking boots! (I bought them for this trip!) So you will understand that this is very much outside of my comfort zone and will definitely challenge me physically and mentally.

I was inspired to look into Eye4Everest from a colleague of mine, who made the trip last year. After hearing about what an amazing trip she had, not only from the breathtaking scenery of the Himalayan mountains, but also the way that we, as optometrist can give back to society and contribute to other people's lives, I couldn't think of a reason not to sign up for the trip.

Last year was a difficult year for me, so I wanted to move forward to do something amazing. I wanted to push myself out of my comfort zone and challenge myself to develop into a better version of myself. So I decided to stop procrastinating and just sign up! Not only am I ticking off an item on my bucket list, but I am also joining an awesome organisation which aims to build a sustainable program to provide basic eyecare that we often take for granted.

Eye4Everest started in 2014 with sydney local optometrists who shared a common passion. They are in the midst of building an Eyecare clinic there, so 100% of your contributions will be put towards the eyecare program that will benefit the local Himalayan people for years to come!
Don't forget these donations are Tax deductible!

You will also be donating to my sanity during this trip, as I will receive tokens for the funds that I raise to exchange for things like hot showers/ soft drinks/ snacks. yes, hot showers will be a luxury there.

So please support this great cause and hit that donate button!



23 donations
since May 2019
Fundraising for
Eyes4Everest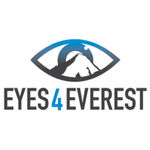 Eyes4Everest was founded by Australian paediatric optometrist Shaun Chang after learning some Sherpa children were having difficulty seeing the board. The Association is dedicated to providing eye care and treating preventable blindness in the mountain communities.