Perth2Pambula
Campaign creator
Perth2Pambula - Raising awareness for Mental Health and Autism
Fundraising for
Danes R. Waites
Dane is an elite athlete and has run across Australia from Perth to Pambula, over 4000km to raise money and awareness for mental health and autism.

Dane had a dream that was created with his father of running from Perth to Pambula, he has been running 50km per day, six days a week since the 2003 Dublin Special Olympics - he takes Fridays off to go dancing!

Danes' goal exceeds in three months what most of us could not achieve in a lifetime. Dane wants others living with significant Autism and a mental health condition to see that a "great life" can be achieved.

Dane has come a long way since being diagnosed with Classic Autism. Against all odds he has learnt to talk, recognise emotions and make lifelong friendships. He has competed in the Special Olympics, bringing home a bronze medal for Australia, and he has spent the past 14 years training for his run across Australia.

With more than 115,000 Australians on the autism spectrum, Dane is determined to raise much needed funds for medical research, awareness and support services for other Autistic Australians like himself. Dane is raising money for Autism Spectrum Australia (ASPECT), Beyond Blue and Autism CRC.

Dane has the support of his beautiful mother Junee, loving friends and a close knit community, now he needs the rest of Australia to get behind him.

FOR MORE INFORMATION ON PERTH2PAMBULA:

www.perth2pambula.com.au

Dane's book - Smiling at Shadows
https://www.facebook.com/perth2pambula

For further information please contact: perth2pambula@gmail.com


---
384 donations
since Mar 2015
Fundraising for
Danes R. Waites
Dane Waites is one of thousands of Australians with Autism. Dane has run over 4000km across Australia from Perth WA to Pambula NSW to raise money and awareness for Autism and Mental Health.
Funds banked to
Dane.R.Waites
Campaign creator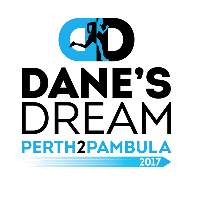 Perth2Pambula - Raising awareness for Mental Health and Autism

---
Share this campaign
Share your Fundraising Page link.
Leave a message
---
report fraud