Thank you for visiting my Fundraising Page for Makybe Rise Primary School Spell-a-thon! You can sponsor me and leave a message by selecting the donate button above. My goal is to spell each word correctly and to raise a lot of money for my school. Please help me each my goal.

This fun and educational fundraiser gives me a fantastic opportunity to support my school and win some fantastic prizes. The Spell-a-Thon combines academic activity and fundraising. I will be challenged to expand my spelling prowess, while at the same time raising funds to bolster our school's enriched academic offerings.

All funds raised will allow my school to purchase some exciting new items for our classrooms, playgrounds and school.

Your support would much appreciated.
0 donations
since Aug 2014
Fundraising for
Makybe Rise Primary School P&C Association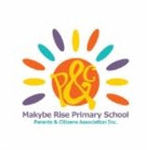 Makybe Rise Primary School is a local merit selection, state of the art Independent Public Primary School committed to excellence in academic and social achievement. We firmly believe that every child can learn and that every child brings a contribution to our community.