Welcome to the fundraising page for Pioneer Clubhouse in the Wellness Walk 2014!

Mental illness affects 1 in 5 Australians each year, and everybody has somebody that they know or love, who is living with a mental illness.

Pioneer Clubhouse has been serving the community for 20 years, helping people with mental health issues live the best lives they can. Through supporting people in a work ordered environment at Pioneer Clubhouse, people improve their social skills, their employment skills and their general wellbeing.

You can sponsor team Pioneer and leave a message by selecting the donate button above.
Thanks for supporting our efforts in providing a supportive community to those with mental illness.
50 donations
since Aug 2014
Fundraising for
Pioneer Clubhouse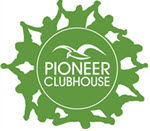 Pioneer Clubhouse provides an ongoing, safe, supportive, respectful community in which people living with mental illness can realise their individual goals, maximise their community integration and enhance their quality of life.