Sharon Oreo Climb for a Smile Challenge!
Thanks for visiting my Fundraising Page for Climb for a Smile 2014!
I am climbing 50 flights of stairs to raise funds for Rotary approved projects. Your donation to my chosen cause will change improve or protect a child's life forever
You can sponsor my efforts and leave a message by selecting the donate button above.
Thanks for supporting our efforts in raising money for my nominated cause!
If you want any further information on any of the causes the Climb supports please go to the Climb for a Smile website
www.climbforasmile.org.au
2 donations
since Jun 2014
Fundraising for
Climb for a Smile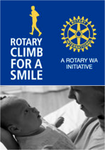 Rotary WA Climb for a Smile supports Rotary's mission of improving health, education and alleviating poverty by fundraising for Rotary supported causes including End Polio Now, Interplast and the Melanoma Research Group.