Simon Madden on The Yooralla Great Vic Trek
During the 2009 Great Vic Trek I was lucky enough to have two stints with the
team, Traralgon to Bairnsdale and then from Ballarat, Hamilton, Portland and
Warrnambool. The competition amongst the Trekkers was fierce with Scotty West
and Spida Everitt being the fiercest competitors. I am really looking forward
to joining the team again this year to help spread the news about the great work
Yooralla does in the community for those Victorians living with a disability. I
need your most generous support to help me reach my fundraising target of $5K.
Please donate now!!!
1 donations
since Aug 2010
Fundraising for
Yooralla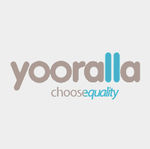 Yooralla is a not-for-profit organisation offering high quality support services for people with disability. Established in 1918, Yooralla offers a wide range of services to people of all ages who are either born with or acquire a disability as the result of accident, ill health or age.