Support Jonathan to be more Mindful in May, and Help Bring Water to the needy
In this fast paced world of multitasking and hyper-connectivity taking a pause is a radical act.This May I am pausing by taking part in the one month guided mindfulness meditation challenge.

I'd love you to sponsor me as this challenge will raise money to transform the lives of the one in nine people in the developing world who struggle on a daily basis to access clean, safe drinking water.

While those of us that are participating learn to meditate and be more mindful, our donations and fundraising will ripple across the world, improving the lives of thousands of people affected by the global water crisis.

Join me in making a difference in the world this May. Sponsor my challenge or join my meditation teamand take the challenge yourself.

1 donations
since Apr 2014
Fundraising for
Mindful in May for Charity Water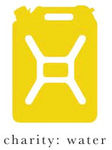 Charity: water brings clean and safe drinking water to people in developing countries. For $50AUD you can bring one person clean water for life. Donations are only tax deductible if you are based in the USA.