What is it?

- A 590km mountain bike ride...on sand
- Over than 700 sand dunes, salt lakes, vast cattle stations, gibber plains
and even a creek crossing or two, or three...
- An 80km morning stage followed by a 50km afternoon stage for 4 days and
one 80km stage on the last day.
- The temperature in the middle of day is likely to be around 45 degrees
- I have to maintain an average speed of at least 12km/hr or get swept

Why You Should Sponsor Me?

You get hit up for cash all the time, I get that. But here's why you should drop some cash on me:
1) It's the Royal Flying Doctor Service - c'mon these guys are epic!
2) I've been training for 12 months to get here
3) This trip is entirely self funded (about $5000 between the bike, fuel, food etc) so I want to make it worthwhile!

You can sponsor me and leave a message by selecting the donate button above.

You can follow my progress during the race on our https://www.facebook.com/SimpsonDesertBikeChallenge (it's a public page so you don't have to join Facebook to track how we're going).
38 donations
since Jan 2014
Fundraising for
Royal Flying Doctor Service (RFDS)- Central Operations (SA/NT)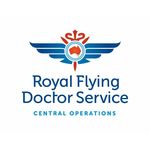 The Royal Flying Doctor Service of Australia RFDS is the first, largest and most comprehensive aeromedical organisation in the world.