Thanks for visiting my Fundraising Page for Mindful in May!


I'm signing up to be Mindful in May because I love both of the causes.

Encouraging first world folks to stop and breathe and raising funds for third world folks to have clean water.

Any way you look at it, we're all winning..

Why don't you join me and experiment with meditating for a month- join my team or if meditation's not your thing and you want to support the cause you can help spread the Mindful Ripple by sponsoring my challenge.

It's a one month meditation campaign that challenges people to learn about meditation and experiment with a regular practice in May while at the same time dedicating our efforts to a global cause: helping to build clean water wells and bring clean water to the 1 in 6 people on the planet who struggle daily without access to this most basic need.

The money that we raise will be going to Charity water an organisation that is helping to bring clean, safe drinking water to the nearly 1 billion people who struggle daily without it. Charity water is an innovative organisation that uses technology to link the donors to the exact location of the wells using GPS technology. In 12-18mths we will know exactly which villages we have helped around the world.

You can sponsor me and leave a message by selecting the donate button above. $20 will help one person get access to clean, safe drinking water for life.
$5000 will allow one clean water well to build built and sustain an entire village!

Thanks for supporting the challenge.
28 donations
since Apr 2013
Fundraising for
Charity Water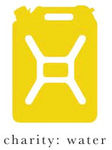 Charity: water brings clean and safe drinking water to people in developing countries. For $50AUD you can bring one person clean water for life. Donations are only tax deductible if you are based in the USA.