---
Robert Menzies College needs your help in 2021 to support students facing serious financial hardship.
COVID-19 has had a serious impact on many residents:
      - Many families have lost their jobs or had businesses locked down
      - Students lost their jobs at the start of the year and are struggling to find work
      - Students have used up all their savings
RMC has been able to provide great support in this time of need. We have kept our doors open so that we can continue to provide safe and secure accommodation.
Since July 2020, RMC has been working together with the Study NSW Temporary Student Accommodation Scheme to provide accommodation to about 40 stranded international students. There are many heartbreaking stories: some students have been trapped in isolation for months because they could not afford a flight back home; some have been surviving on a single meal a day—or less; most have been unable to find work, or lost jobs early in the pandemic; many cannot afford to pay their rent. These students would be at great risk without the college environment.
RMC has also increased our financial support for Australian students during this time. Many of them were already feeling financial pressure from the impacts of drought and bushfire, and so were in a difficult position before COVID-19 hit. Family businesses are struggling, jobs in Sydney are almost impossible to find, and once-reliable summer casual work has disappeared. A number of our students who are keen to return to RMC in 2021 are needing to consider postponing their studies, studying online, or moving to cheaper accommodation.
This is where we need your financial support. We want to provide scholarship funds for these students so they can stay at RMC in 2021 and complete their studies. 100% of all donations go to their scholarship fund for an ABCD fully catered room option.
Can you help us support these students get through 2021?
Please respond as you are able. No donation is too small and every donation of $2 or more is tax-deductible.
We appreciate your generous support in creating a safe environment for those who need it.
  "I would like to thank RMC and hugely appreciate your efforts to help us in this time of need."
Student from Pakistan
 "I don't want to leave RMC because this environment is so peaceful and helps me to focus on what is important."
Student from India
"Thank you for all the emotional and financial support that RMC has provided throughout this difficult semester. I really appreciate all your effort and compassion... I really love being at College, and do not want to lose all the academic, emotional, and social benefits that this environment provides for me. I think the College environment is integral to my success at university"
Student from New South Wales
78 donations
since Oct 2020
Fundraising for
Robert Menzies College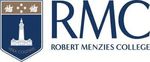 RMC is an Anglican Residential College on Macquarie University campus. Generations of students have enjoyed a safe caring environment that supports them in their studies and helps them to establish a firm foundation for their lives. It is a great place to make friends, in many cases friends for life
---
Share this campaign
Share your Fundraising Page link.
---
report fraud