Freedom Wheels Centre and Maker Space
Be part of our future and help people with disability like our young cyclist, Mary, to live without limits.
Support Solve's Freedom Wheels Centre & Makerspace
Help make our vision a reality!
After 23 years as a tenant at the Royal Talbot Rehab Centre, Solve Disability Solutions is moving to a new home – a home that will expand our capacity to deliver to the growing number of people who need our service to live without limits!
Our vision of Solve becoming a thriving hub for innovation and activity where our customers, volunteers and staff can meet, work and create is set to become a reality. You can be a part of it!
Our incredible community of over 150 volunteers generously donate their time, skills and vision to support more than 500 individuals living with disability and their families each year. In our new central office, we will establish an active hub where our volunteers can meet, have a cuppa, collaborate and create new and exciting equipment solutions using our makerspace containing tools, materials, 3D printers and more.
Solve's new open-plan Abbotsford location gives us an opportunity to host our Freedom Wheels custom bike service in a dedicated cycling centre where riders and their families can attend personalised bike assessments, see their custom bikes being built in our innovative makerspace, and attend individual training sessions. This facility will enable over 300 children with a disability each year to experience the joy, freedom and fitness of riding a bike, participating and sharing smiles with those around them.
You can be a part of this exciting next chapter in Solve's future. We are seeking donations for the Freedom Wheels Centre and Maker Space.
Donations over $2 are fully tax-deductible. All donations are appreciated and will help people like Mary live without limits today. 

Donations of $50 or more receive tickets in our raffle for a Google Home technology package ($50/ticket).

Donations over $1,000 receive a VIP invite to our grand opening.

$2500 - Bronze Supporter - Your name on a dedication mural wall + Grand Opening VIP for 2

$5,000 - Silver Supporter - Your name on a dedication mural wall + Grand Opening VIP for 4

$!0,000 - Gold Supporter - Personal, group or company name on events banner and jerseys or Meeting Room naming rights + Grand Opening VIP for 6

$25,000 - Platinum Supporter - Freedom Wheels Centre or Makerspace naming rights - Personal or business + Grand Opening VIP for 8



​Please consider making a donation to Solve today.
21 donations
since Jun 2020
Fundraising for
Solve Disability Solutions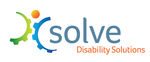 Solve Disability Solutions designs, construct or modify equipment for people with disability when no commercially available product will meet their needs. Solve manages the application of volunteer with technical and engineering skills in concert with health professional advice.
---
Share this campaign
Share your Fundraising Page link.
Leave a message
---
report fraud