Shaare Zedek Medical Centre Jerusalem is once again on the front line!
We are currently treating 14 Coronavirus patients and this number is likely to escalate steeply.
We urgently need to buy:
*Ultrasounds $72,000 each
*Respirators $120,000 We received 3 from the Israeli Government this week and need 7 more!
*ICU Bed $300,000 each
This is equipment that must be bought NOW!
There are many elderly and vulnerable citizens of Jerusalem who are depending on us to save their lives.  
Dear Shaare Zedek Family and Friends,
We pray that this email finds you well and coping with this unprecedented International medical crisis.  We know that each and every one of you are dealing with your own anxieties, challenges and health concerns, not to mention quarantines, and we are grateful for you taking the time to hear our most urgent plea, which please understand, we would NEVER bother you with now if it was not critical.

 

During these times of deep uncertainty, Shaare Zedek is acting on the frontlines in absorbing Corona patients and preparing the Hospital for all possible developments. Treating the Jerusalem community that is home to a large percentage of the demographic most vulnerable to this virus - the elderly - we have no doubt that in the near future the numbers will rise. This crisis presents enormous financial challenges and we are therefore launching an Urgent Campaign on behalf of Shaare Zedek

 

Our specific needs are for the immediate purchase of respirators ($US75,000 per unit), ultrasound machines ($US40,000 per unit) and mobile x-ray equipment ($US135,000 per unit).  Of course, there are many other supporting general needs for the complex infrastructure and laboratory services that we know will arise. Please contact us if you want to help.

 

We are of course well aware of the current environment here in Australia. It is only because we desperately need your help now, that we make this impassioned plea.
With deepest gratitude,
Dr Allan Garfield, Chairman
Prof Agnes Bankier OAM Deputy Chair
Board Members: 
Helen Brustman OAM
Dr Henry Eisenberg
Robert Epstein
Ruth Epstein
Sara Garfield
Adina Bankier-Karp
Moishe Landau
Robert Lebovits
Zvicca Ledder
Tom May OAM
Laurence Slomoi
Ben Slonim OAM
45 donations
since Mar 2020
Fundraising for
Australian Friends of Shaare Zedek Inc.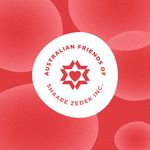 Shaare Zedek Medical Centre has a profound responsibility to the urgent needs of the citizens of Jerusalem. Please donate generously and help us save lives.
---
Share this campaign
Share your Fundraising Page link.
---
report fraud