HELP US HELP OUR COMMUNITY
Event
HELP US HELP OUR COMMUNITY
Here on the Mid-North Coast of NSW, community means everything, especially at a time like this where we are all touched in one way or another by the devastating bushfires and the crippling drought.

For the past 35 years, our Community College has been working quietly amongst us to support those doing it tough. Reconnecting people with life, education, employment through programs that support people in ways that really matter, restoring hope.

Especially vulnerable in tough times are those who need extra support to rebuild their lives, needing an alternative approach not found elsewhere, to flourish. Our college is dedicated to finding ways to put the pieces in place in a different way and we take great pride in being considered as the 'provider of last resort' for those with the highest, most complex needs including:

Disengaged Youth
Long Term Unemployed
Indigenous Learners
Adults with Disability
People in Mental Health Recovery
Women returning to the workforce
People with Alcohol or Other Drug histories

A Funding freeze is jeopardizing this vital work and so the tables have turned and we are now asking for the help of our community to continue our work to find innovative ways to bridge the gap.

Our small team of 15 staff operating from Taree to Coffs Harbour punch above our weight and need your help to stay alive over Christmas and throughout 2020.

Regional communities have an uphill battle with a range of issues, please help us maintain our support.

We are hoping an affordable amount of $10 from 25000 people who care about the work we do in the community, who care about community education in this region and beyond, will achieve this goal.

There are so many worthy fundraising campaigns, every day – all year. We know this because we have contributed to so many of them. This time around, we hope to be considered one of them.


29 donations
since Dec 2019
Fundraising for
Mid North Coast Community College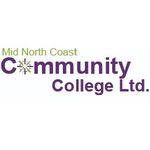 For over 35 years we have been enriching our community. Our outreach includes important programs for disengaged youth, people with disabilities and mental health challenges, the long term unemployed as well as Indigenous Australians and at-risk women and families to name just a few.