We are growing, help us relocate!
---
We are leaving our iconic Home in Swan Street to build the future of SisterWorks in our new Central Hub in Bridge Road during November.
The challenge is to renovate this new Home to become a functional and welcoming place for our sisterhood. Currently, the new building requires urgent renovations and furniture, before we are ready to reach more than 400 Sisters in Richmond by 2021.
We urgently need to create better facilities to be able to provide training in our Design, Sales and Business labs. We also want to open up new learning opportunities for our Sisters, and be able to offer private spaces to hold meetings, personal support as well as mentoring and language classes.
The only catch is that we do not have the money to pay the costs involved in our relocation, so we are trying to see if we can do a small funds capital raise with a few people/businesses that may be willing to support us and commit to this long-term impact project. 
With your monetary donation, we will be able to pay:
Toilet renovation – we will convert the current bathrooms in the house into 2 small toilets + kitchenettes (upstairs and downstairs)

Repair and paint the rooms – there are broken windows, peeling wallpaper, mouldy walls.

Rear Gate – we will make space to park 4 cars in the garage. (One of them being our SisterWorks car that transport materials and products to various locations around Victoria)

Shop Signage – Street visibility is a "must". It will encourage the community to join and come into our store. Also, to keep a harmonic and nice environment in the neighbourhood.

Furniture – As we are moving into a bigger space we need the appropriate workshop tables, chairs and storage to provide a good workspace for our sisters, key for their development and efficient production.

Removals – Even though we are relocating just a few blocks away, we need to hire a moving van.



We are super excited and happy taking this huge step. SisterWorks has been growing for the last 6 years and finally, we will have a Richmond Empowerment Hub that will have enough space to receive and teach hundreds of women, woo hoo! 
Please feel free to contact us if you have any questions, we are more than happy to assist you! 
THE BEST BIT: Of course, it is fully tax-deductible!
Thank you, we couldn't do it without your support!
SisterWorks Family 
41 donations
since Sep 2019
Fundraising for
SisterWorks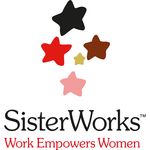 SisterWorks is a not-for-profit organisation. Its mission: Through work and entrepreneurship, we support women who are refugees, asylum seekers or migrants to improve their confidence, mental wellbeing and sense of belonging.
---
Share this campaign
Share your Fundraising Page link.
Leave a message
---
report fraud