Hi there
We are Maddy and Teegs, sisters from Melbourne, aged 12 and 10 (and a half!) and are m.a.d. kid ambassadors for the m.a.d.woman foundation (m.a.d. stands for making a difference and we are!). We are doing the Pencil Case Project again to help kids less fortunate than we are and could use your help!
We are trying to raise $5000 to send 500 pencil cases filled with new stationery to disadvantaged kids and children in foster care in Australia. If you donate $10, you've sponsored one pencil case! Last year we went over our target and raised nearly $8000. Please help us do that again!
We first got involved with the m.a.d.woman foundation Pencil Case Project two years ago when we saved $1 a week for a year from our pocket money for charity. When we heard about this project, we went shopping to buy school stuff for kids in foster care who might not get everything they need. It felt really good to help other kids and we wanted to do more.
Last year we met with Melina, the woman who runs the m.a.d.woman foundation, and helped with a big project on Mother's Day for 2300 women fleeing domestic violence. After that we decided to take on a huge project all on our own and worked closely with Melina to make it happen! (Our Mum Eva is our taxi driver though and comes to meetings with us too).
Last year, we made 1000 hair accessories to sell to help us raise money for this project. Our plan was to make at least 500 back-to-school packs for kids in Australia who were in foster care and other kids who needed some help.
We did lots of research and planning and aimed to raise $10 towards each pencil case pack and we wrote letters to some businesses asking them to please donate some stuff to go inside the pencil cases. We even spoke on stage at some big events and our story went on the Channel 7 News!
We were so excited that in the end our project supplied 1,000 pencil cases filled with new supplies for disadvantaged children around Australia.
This year, we are hoping to raise even more money and already have a team of fabulous people sewing new pencil case bags to be filled with supplies and distributed to children who might not get everything we do to start the new school year with.
To help raise the money, we are again making 1000 hair accessories to sell. We are making them before and after school and on weekends and have already made hundreds! They are really cool and we hope lots of people will buy them.  
They will be sold through the m.a.d.woman Hair to Help program. If you are interested in some please email info@madwoman.com.au. Also, you can read a bit more about the charity and about us on the website at www.madwoman.com.au too.
We also hope that maybe some people might help us with some fundraising, so if you can help us by sponsoring one or more pencil cases for $10 each, that would be really, really, really awesome!
Thank you so much!
Maddy and Teegs xo
P.S. Our photo is from last year when we delivered the full pencil cases!
35 donations
since Sep 2019
Fundraising for
m.a.d.woman foundation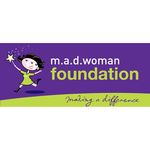 m.a.d.woman was set up to encourage, engage and inspire people to make a difference to their communities, environment and people in need. We've already helped more than 350,000 people facing challenges. Please support the m.a.d.woman foundation to help even more of our most vulnerable citizens.