Food For Change Spring Fundraiser
---
Its On Again! The Food For Change Annual Spring Fundraiser!
Starting on the 1st Of September and culminating on the 13th of October at the Brighton Bowls Club we are aiming on raising over $100,000 to expand our growing program from 30,000 meals a year to over 100,000 meals and implement a School Based Apprenticeship Training Program for kids with disabilities to gain a certificate in horticulture and give them the tools they need to leave school and head successfully into the work force!!
To do this we need your help!
By donating to our campaign you will help us raise enough funds to purchase the equipment we need for the kids to be a part of the horticutlure training program, the seeds & seedlings we need to grow even the food and also allow us to set up a new cool room and purchase a farm vehcile to safely move and store all the extra food!
Every $1 donated will see 10 meals grown and rescued and delivered to hungry Australians.
And once set up the horticulture program will allow for up to 18 kids with disabilites to recieve life changing training each year.
With the added benefit of allowing us to grow enough food for an additoonal 70,000 meals a year to feed those in need!
How Else Can You Help?
If your unable to donate to our Spring Fundraiser or join us on the 13th of October in Brighton then please take just a moment to share this campaig onto your social media. Every share and like helps us get closer to reaching our funding goal and supporting the community!
Thank You For All Your Support!
Food For Change
5 donations
since Sep 2019
Fundraising for
Food For Change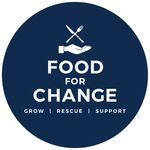 Food For Change grows food on unused land & rescues food via our partners to support those in need in our community. Every $1 donated allows us to grow & rescue 10 Meals to help feed hungry Australians. Thank you for your support.
---
Share this campaign
Share your Fundraising Page link.
Leave a message
---
report fraud