Ink Me In Aid of Mental Heath (HALT)
My name is Kris and this is my story.

To be honest, I'm a little nervous about putting my story out there.

My three Angels (Children) are the reason I'm alive..... My Big, Medium and Small as I affectionately refer to them.

The day is December 25th, 2017. The day the world seemed too much, I spent the day alone, the same day families around the world are enjoying the love and embracing everything that December 25th has to offer.

That night I tried to take my own life, this was the day I felt had nothing left to live for or so it seemed. Looking back now, this has to be the only time in my life I'm glad I fucked that up and didn't succeed!

With a bucket load of alcohol in my system and heap of medication, I put myself to bed with no intention of waking up. For whatever reason, I did wake the following morning, with a feeling of anger I took myself to the hospital and asked for help. I've been admitted before and looked after by mental health teams for some time, but I was never willing to change. My marriage failed, my best friend had passed, I had quit my secure job, my mum was slowly dying, and I knew that if I didn't change, there would be no more me. I had to make a choice, I could either let this Black Dog continue to bark or take it outside and let it go, so to speak.

I had to change, I just had too, if not for me, I had to do it for my three little Angels.

Hard work, loads of support, medication and photography, are what help me see I had a life worth living, and I wasn't going to waste my second crack at it.

I set myself a goal to better understand why I had been feeling the way I had. I read, went to meetings, spoke to organisations, listened, anything I could to try to be a better me. My focus began the shift I started feeling more positive. So I kept pushing, kept talking and kept looking forward. The hardest fucking thing I've ever done I swear to God.

I haven't seen my kids for six months now, but we talk, and soon I'll see them again. I can't wait for the day.

So when people ask why I'm an advocate for organisations like HALT (Hope Assist Local Tradies) and Kagedlions, this is why. The work they do is fantastic, and I want to help. It's my time to give back, so if I can raise awareness, raise some money and have a little bit of fun along the way I say why not. A few small tattoos is a minimal price to pay , and it is the very least I can do.

My rebuild is well and truly happening, and I'm proud of where I am at today. Of course, there are vital people I owe to my own personal rebuild and to them I am eternally grateful.

So more detail on how I plan on raising money and supporting HALT.

I recently attended the Likeminded Painters "Empowering Painters" Networking Conference in Melbourne and had the opportunity to meet both Clayton Coughlan (LPA) & Jeremy Forbes, founder of HALT.

Coming away from this conference, I felt so inspired, and with a new found passion for my trade (Painting & Decorating), I love the work these guys do! So much so I jokingly said to Clayton Founder of LPA that I wanted to get an LPA logo tattoo, to which he jokingly replied that he would pay for it and give me $500.

This was a lightbulb moment for me when I thought, Hang on. This is my chance to give back. So I said to Clayton that I didn't want the money. Instead, I wanted him to donate the funds to HALT on my behalf to which he agreed after a phone call to ensure that I was 100% sure that I wanted to do it, reminding me several times that this decision was for life.

Since then, I have had support from Phillro Industries and Mick from HPS Painting, so I have decided that I will also now ad their logos, as well as they too, have offered to donate. That's it though, three tattoos are enough.

Since the idea started, Jeremy Forbes from HALT has said, if I raise $5000 he too will get the HALT logo tattooed on himself with me on the same day.

We have set aside Friday 2nd August 2019 as the date for the Tattoos to be done at a yet to be announced location in Melbourne Australia.

Thank you all for taking the time to read my storey and why I am passionate about supporting this fantastic charity and I thank you all in advance for your kind donations.

41 donations
since Jun 2019
Fundraising for
My Cause Gift Fund for HALT Hope Assistance Local Tradies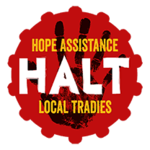 Funds donated to the My Cause Gift Fund will be disbursed to HALT (Hope Assistance Local Tradies). The trustees will always disburse funds to the nominated cause, however in the case that that is not possible, the funds will be disbursed to a DGR charity at the trustees discretion.