Niemann-Pick Type C's 1000km in 10 days Challenge
Funds go to
Australian Niemann-Pick Type C Disease Foundation
Event
Personal Cycling Challenge
My nephew has been diagnosed with Niemann-Pick Type C disease. I had never heard of this disease before May this year. It is a rare, genetic, terminal disease. It has been called childhood Alzheimer's. I believe hope still exists through research and for research to happen awareness and money is needed. I am raising awareness and hoping to get some donations by trying to ride 1000km in 10 consecutive days from 28/12/18 to 6/1/19. I believe this is a doable but a very tough challenge.
---
26 donations
since Oct 2018
Fundraising for
Australian Niemann-Pick Type C Disease Foundation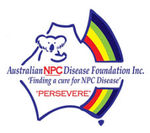 Australian NPC Disease Foundation is trying to raise awareness and funds for research into a treatment/cure for this rare terminal genetic disease that is called Niemann-Pick Type C Disease, which has a number of symptoms and has also been referred to as Childhood Alzheimer's.