Save Sophia's Leg Charity Appeal 2019
Campaign creator
Carley Jans
Fundraising for
Sophia Jans
SOPHIA'S STORY...

In August 2014, the Jans' celebrated the birth of the beautiful Sophia Rose. Sophia was born with a very rare limb deficiency called Fibular Hemimelia affecting her right leg and Tallipe (club foot) to her left foot, which was successfully treated shortly after her birth.

Fibula Hemimelia is the malformation or absence of the fibular bone (with a shortened tibia bone) and can also include deformities to the ankle, foot and thigh. There are varying degrees of severity of this condition. In Sophia's case she has no fibular and her ankle, foot and thigh are also malformed. In Australia at the time of Sophia's diagnosis, the only treatment that had been recommended was amputation of her leg, leading to a life prosthetics and the complications that are associated with this, such as pressure sores to the stump, back pain and potential for body image challenges that Sophia would face as an amputee. Even after amputation the ongoing costs of prosthetic limbs for Sophia would be a financial burden on the family, especially while Sophia grew as a new prosthesis may be required every 6 months.

However, Carley and Christian through researching more about Fibular Hemimelia, found out that Sophia's leg could be saved.

Dr. Paley, from the Paley Advanced Limb Lengthening Institute in Florida, USA specialises in limb reconstruction. Carley and Christian decided after careful consideration and consultation with the Paley Institute, that they would do everything possible to get Sophia there for limb lengthening surgery.

As a family, the Jans' have been through more than their fair share of life-altering events. In 2009 Carley and Christian suffered the terrible and unexpected loss of their twins, Jake and Hayden, due to complications caused by Carley contracting Parvovirus during her pregnancy. Carley and Christian were then given the heartbreaking news that any further pregnancy's would be nearly impossible. Carley told the doctor that her family was not yet to be complete and they tried for a further 4 years to fall pregnant.

In July 2013, 3 weeks after moving into their new family home, the Jans family experienced another tragedy, a house fire. Fortunately all the family members were able to evacuate with no one being injured even though the fire was only metres away from daughter Holly's bedroom where she was asleep.
Christian had to run back into the house to retrieve Hayden and Jake's ashes. This house fire took most of their belongings.

The Jans family then faced a battle with their Insurance Company. This resulted in the Jans family paying rent and mortgage payments simultaneously. As a result, Carley was forced to return to work early from maternity leave in order to help keep up the mortgage and rent payments. Their new family home has also been modified for Sophia's recovery which now includes a heated pool as hydrotherapy will be important in little Sophia's recovery from her pending the surgery.

Although Sophia is a healthy child, her limb disabilities are just another unlucky sequence of unfortunate events that this family has had to deal with together. But they are a strong family and will do whatever it takes to do the best for Sophia and give her every chance of keeping her leg. Sophia is a beautiful girl who deserves a chance to have full use of both her legs

The Jans family are a very proud and giving family, who are prepared to fight and give everything to Sophia to ensure that the best possible outcome for an able bodied life has been attempted. Both Carley and Christian find it difficult not to try everything medically possible to save her leg.

Friends of the family have rallied together to organise fundraising events such as a gala night and selling chocolates, but fear that this may not be enough.

Please help to share their story and help us to Save Sophia's Leg.

In 2016, Sophia underwent limb lengthening surgery at the Paley Institute in Florida USA.
Now we hope to recommence our fundraising campaign to fund her second surgery in July 2019.
This new campaign 'The Road to Saving Sophia's Leg - the next step' has a goal of $100,000.
Please join us on this journey and support little Sophia by donating to her cause and sharing her story with your friends and family.

Tickets to her upcoming Gala Night can be purchased at www.trybooking.com/BAOMH

#SaveSophiasLeg
---
58 donations
since Sep 2018
Fundraising for
Sophia Jans
We are raising funds for Sophia Jans who was born with the rare limb deficiency known as Filbular Hemimelia. Sophia is scheduled to undergo her second limb lengthening surgery in Florida in July 2019 before she starts Kindergarten next year. Our target is $100,000.
Funds banked to
Save Sophias Leg Charity Appeal
Campaign creator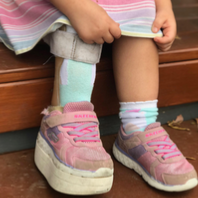 ---
Share this campaign
Share your Fundraising Page link.
Leave a message
---
report fraud