Australian Women's Day
Campaign creator
Sistership
Fundraising for
The Women's Grant
On Australian Women's Day on the 22nd September, we are inviting the women and men of Australia to do something new and bold. We're asking you to work with Australian Women's Day to create a grant program to benefit the women and girls of Australia.

One hundred percent of donations made through this page will be held by the Australian Women's Day Trust and allocated to the Women's Grant.

This year all monies will be allocated to Aboriginal and Torres Strait Islander women and the organisations that support them.

Nominations for the grant will be open from Monday 10 December 2018. Find out more about the grant here: http://australianwomensday.com/the-womens-grant/

Our dream is to raise upwards of $15,000 for this grant. Will you help us build a grant program that's focused entirely on supporting the women and girls of Australia?
1 donations
since Sep 2018
Fundraising for
The Women's Grant
One of the primary pillars of Australian Women's Day is giving back. Each year a philanthropic focus is chosen by the AWD Identity Council. This year the focus of the Women's Grant will be to support Aboriginal and Torres Strait Islander women.
Funds banked to
Australian Womens Day
Campaign creator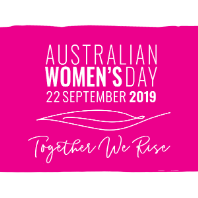 ---
Share this campaign
Share your Fundraising Page link.
Leave a message
---
report fraud