Homeless Connect Perth 2018
Can you buy lunch for a homeless person?
Imagine finding yourself in a situation where you were homeless and then imagine a one day event in Perth city where you were provided with not only lunch but FREE services including: accommodation assistance; counselling; legal advice; employment services; free GP, dental, podiatry and optometry services; budget/financial counselling; identification (Births/Deaths/Marriages); massage & skin treatments; free shop facility with food, clothing, and toiletries; personal hygiene (haircuts and showers); sporting and arts activities.
This event is one that many of Perth's disadvantaged community look forward to each year and it is often life changing for them.
How will your $10 donation count?
Volunteering WA are seeking $10 to feed two people a wholesome two course sit down lunch at our event.
Homelessness cannot be solved in one day, but becoming reconnected into community and finding pathways out of homelessness are achievable at Homeless Connect. 
For more information please visit https://homelessconnect.volunteeringwa.org.au/ or our Homeless Connect Perth Facebook page.
Homeless Connect Perth is an initiative of City of Perth and Volunteering WA.
Thank you!
126 donations
since Aug 2018
Fundraising for
Volunteering WA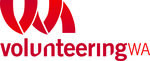 Volunteering WA aims to build strong and vibrant communities through volunteering. As a peak body we work with a range of agencies to advocate, promote and advance volunteering.
---
Share this campaign
Share your Fundraising Page link.
---
report fraud