Hi – we are Maddy and Teegs and we are sisters from Melbourne aged 11 and 9 (and a half!).
*****Update! We're now aiming for $10,000 and 1000 pencil cases!!*****
We're trying to raise $5000 to send 500 pencil cases filled with new stationery to disadvantaged kids and kids in foster care, so if you donate $10 you've sponsored one pencil case. This is our story...
We're m.a.d. kid ambassadors for the m.a.d.woman foundation (m.a.d. stands for making a difference!) and working on our biggest project ever to help kids who are disadvantaged and in foster care.
This is how we got started. Last year we saved $1 a week for a year from our pocket money and when we heard about this project, we went shopping to buy school stuff for kids in foster care who might not get everything they need. It felt really good to help other kids and we wanted to do more.
So we met with Melina, the woman who runs the m.a.d.woman foundation, and helped with a big project on Mother's Day for 2300 women fleeing domestic violence (our photo is of us having fun swimming in tea bags while we were helping).
Then I (Maddy) shaved my hair to raise $2364 for kids with leukaemia.
Now we have decided to do a huge project on our own! (Our Mum Eva is our taxi driver though and comes to meetings with us too).
We are hoping to make at least 500 back-to-school packs for kids in Australia who are in foster care and other kids who might also need some help. We have done lots of research and planning and know what we need. We are trying to raise $10 towards each pencil case pack (a kind lady is sewing all the pencil cases for us) and we are also writing letters to some businesses asking them to please donate some stuff to go inside the pencil cases.
That means we need to raise $5000! We know that is heaps and we are prepared to work really hard to reach our goal.
To help raise the money, we are making 1000 hair accessories to sell. We are making them before and after school and on weekends and have already made 200! They are really cool and we hope lots of people will buy them.  
We hope to start selling them in July and if you'd like to buy some of our Hair to Help stuff please sign up for the newsletter at www.madwoman.com.au. Also, you can read a bit more about the charity and about us on the website too.
We hope that maybe some people might help us do some fundraising too, so if you can help us by sponsoring one or more pencil cases for $10 each, that would be really, really, really awesome.
Thank you so much!
Love
Maddy and Teegs xoxo
72 donations
since Jun 2018
Fundraising for
m.a.d.woman foundation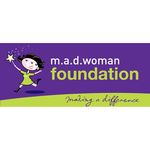 m.a.d.woman was set up to encourage, engage and inspire people to make a difference to their communities, environment and people in need. We've already helped more than 350,000 people facing challenges. Please support the m.a.d.woman foundation to help even more of our most vulnerable citizens.