'Little Pieces of Me' Art Exhibition
Tracey Harvey's first solo exhibition in Perth is inspired by, and is also supporting, children and their families who are suffering the effects of Osteogenesis Imperfecta (OI), otherwise known as brittle bone disease.
A percentage of sales from her exhibition will help raise funds for the establishment of an 'integrated care facility' dedicated to OI at Princess Margaret/Perth Children's Hospital.
Tracey is working closely with the OI Society of Australia  (via Arthritis & Osteoporosis WA) to assist Associate Professor Aris Siafarikas, Paediatric Endocrinologist, in this endeavour.
Tracey's association with OI is also personal as her god-daughter has brittle bones. Tracey loves to paint with Claire and one of Claire's paintings, along with one of Tracey's, will be auctioned on opening night with all proceeds donated to the cause.
With a background in science and physiotherapy Tracey has a great sense of how scientific research and creativity have many synergies. She understands that great discoveries can only be made through trial and error and frequently through unexpected mistakes or wrong turns. Her paintings are vibrant and thoughtful, often contemplating the wonder of life at the same time as its fragility.
EXHIBITION DATES: The exhibition will be opened by Mario D'Orazio, Managing Director of Channel 7 Perth, on Friday 2 February at 6pm and will be open to the public from Saturday 3 – Saturday 10 February, between 10am – 4pm daily at the Gallows Gallery 53 Glyde Street, Mosman Park WA  
RSVP: Opening night by emailing rsvp@traceyharveyart.com.au by 30 January 2018                                    
ART & MEDICINE TALKS: Sunday 4 February, 2-4pm, Tracey is also hosting specialists from PMH, in the gallery, to talk about the issues of OI and the progress in therapies and genetic research on Speakers include Dr Aris Siafarikas.
RSVP: rsvp@traceyharveyart.com.au by 30 January 2018
View the video Unbreakable Spirit at https://youtu.be/Jhk57dAbfSY
16 donations
since Jan 2018
Fundraising for
Arthritis WA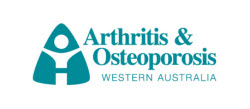 The Arthritis Foundation of WA relies on support from the community to fund it's ongoing committment to the care, education and research for people with arthritis and related conditions.
---
Share this campaign
Share your Fundraising Page link.
Leave a message
---
report fraud