Give the Gift of Education!
Did you know that a child in Kenya can't legally attend school unless they are in full school uniform?
Imagine how hard it is for a family earning $1 a day to afford to send their children to school - even though their schooling at Tenderfeet is offered for free!
This Christmas, give the gift of education! 
Just $25 will provide a student with new shoes, $40 a juinior uniform, $50 a senior uniform, or $120 will outfit a whole family!
Help ensure our students can continue to learn and grow at school, have an education and hope for the future.
6 donations
since Dec 2017
Fundraising for
Tenderfeet Australia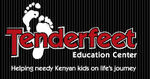 Within the slums of Kibera in Kenya, Tenderfeet brings to orphaned and disadvantaged children the things they need to prepare for a better life - food, education and hope! Tenderfeet Australia works to support the Centre and its Kipepeo program - helping girls get a high school eduction.
---
Share this campaign
Share your Fundraising Page link.
---
report fraud