Tri4Jax
Fundraiser
Michael Parsons
Funds go to
Pallister-Killian Syndrome Foundation of Australia
Jax Bay Parsons was born premature at 29 weeks on 21 March 2014. Jax was immediately put on life support in the NICU at Mount Elizabeth Hospital in Singapore where he spent 311 days in hospital before finally being allowed to go home with his very relieved parents.

During his time in Hospital Jax was diagnosed with Pallister-Killian Syndrome (PKS) a rare chromosomal disorder with very little information and support available to families. Most medical professionals have never heard of PKS. Jax is the only child with PKS in Singapore and while he receives wonderful medical treatment education and support is greatly needed.

Since birth Jax has spent over 400 days of his life in hospital and his will for life and his infectious smile has touched everyone he meets.

Jax suffers from extreme development conditions including mild hearing loss, seizures, chronic lung disease, sleep apnea and is unable to use basic motor skills to grab, rollover or even talk.

A group of dedicated and passionate family friends (Jean-Baptise Le Blan, Tony Chisholm, Scott Gordon, Guillaume Rondy, Jon Lister, Tom Deakin, Trent Standen) have banded together to undertake the physical challenge of completing the IRONMAN 70.3 in Phuket Thailand on 26 November 2017. This group has the objective of raising funds for the PKS foundation to ensure greater medical research can be undertaken for the rare Syndrome and greater awareness and understanding is possible. The group would also like to raise some money to assist with the purchase of specific medical equipment which is hoped will assist in the development of Jax and other PKS kids in their extremely difficult life.

We implore your generosity and goodwill as the team will be training hard to complete this Triathlon event.

Thank you from the bottom of our hearts #Tri4Jax

Parsons & Burke families and the #Tri4Jax Team.
275 donations
since Sep 2017
Fundraising for
Pallister-Killian Syndrome Foundation of Australia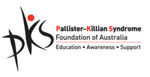 PKS is a rare chromosomal disorder. PKS Foundation of Australia is a not for profit organisation aimed at generating awareness about the disorder within the general community and medical professionals; supporting kids and families of those affected by PKS achieve a better quality of life, through therapy and equipment support and generating sufficient resources to fund research into many of unknown facets of this disorder.