It has been a challenging year for Brett Kenny. In February his step son Riley suffered serious injuries in a tragic accident that has left Riley an incomplete quadriplegic. Brett's wife; Suzanne, has left work to be by Rileys side who is still in Westmead Children's Hospital. This left Brett as the family breadwinner. Now facing his own cancer challenge it is unknown how much work Brett will be able to do as he undergoes his chemotherapy treatment and he starts his cancer journey.

You know Brett Kenny as a Football Legend, the Parramatta Eels number 6, State of Origin and Australian representative. "He played 256 games for Parramatta from 1980-93, scoring 110 tries. Alongside Peter Sterling, Ray Price and Mick Cronin, he claimed the Eels' only four premierships within six seasons in the 1980s, and is considered one of the club's finest players. He also played 17 State of Origins for NSW — and was a part of the Blues' first series win in 1985 — as well as 17 Tests for Australia." (source ABC news)

Brett is the recipient of many awards including the Golden Boot recognising the Best of the Best on the world stage and now he faces the Game of his Life facing Stage 4 Follicular Lymphoma.

Brett and his family need our support. Any donation is accepted gratefully and with whole hearted appreciation by Brett and his family. Brett and Suzanne have been active community members and supporters of many charity events. It's time for us to give back to them.

Together we can make a difference and together if we can help ease the financial burden and take that stress and worry away from a family that has endured so much already this year. Thank you.

If you want to know more about Brett's step son's story you can find info here:
https://www.facebook.com/supportteamriley



51 donations
since Aug 2017
Fundraising for
Brett Kenny
Brett is in the Game of his Life facing Stage 4 Follicular Lymphoma. Diagnosed only days prior to a benefit night being held for his step son Riley Hildtich who is now an incomplete quadriplegic, to say the last few months have been a challenge would be an understatement. Brett needs our support.
Funds banked to
Brett Kenny
Campaign creator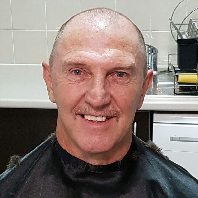 The Game of his Life
Long Jetty NSW
---
Share this campaign
Share your Fundraising Page link.
Leave a message
---
report fraud