Run Melbourne 2017 For NeuroRehab Awareness
Fundraiser :
Australian Institute of Neuro-rehabilitation
Our National Amabassador Emma Gee is leading the way in raising awareness about neuro-rehab. Please donate and support Emma as she takes on the challenge of participating in Run Melbourne on 30 July 2017. Emma will be walking 5km. Help her smash our fundraising goal!
"In my new role as AIN Ambassador I hope to improve the quality of neuro-rehab services available Australia-wide. This is so important to me as providing excellent care & ensuring one's quality of life is vital when living with a neurological condition. Finding a cure is a priority, but raising awareness of the need for boosting neuro-rehab services with technology to meet individuals' needs must be urgently addressed. Surely this would result in better outcomes & unlock opportunities previously dismissed as unachievable!" Emma Gee
60 donations
since Apr 2017
Fundraising for
Australian Institute of Neuro-rehabilitation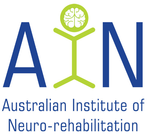 Enabling Accessible Technology-Assisted Community Exercise Programs For NeuroRecovery. Funding Neuro-Rehab Is As Important As Funding Research For Cure! #UnlockingPossibilities