Rally for our blind tennis players
Funds go to
Blind Sports Victoria
Hi, we are the Victorian blind tennis team and welcome to our page.

Think about your tennis game and how you feel about it. Now, imagine what it would be like to play without your sight...

Playing tennis for us involves using our directional hearing or limited vision to determine the location, speed and direction of a ball containing an audible bell.

We have spent the past seven years training. Five of us have now been selected to represent Australia in the first-ever Blind Tennis International Tournament in Spain. However, for most of us our only source of income is the disability allowance.

Can you help us get there? We will have sighted volunteers accompanying us.

Watch the SBS TV coverage above to see more...
56 donations
since Feb 2017
Fundraising for
Blind Sports Victoria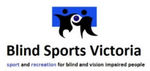 Blind Sports Victoria is recognised by Sport and Recreation Victoria as the State Sporting Association responsible for the development and promotion of sporting and recreation opportunities for blind and vision impaired people throughout Victoria.