I have been supporting my partner financially, physically and mentally for over 7 years now. Doctors and specialists just havent been able to diagnose the problem so the tests, specaillists is a constant drain on the finances on top of all the everyday living expenses. Our electricity bill is very high every quarter but the main thing is that I would like to clear a credit card debt of $3500. Paying the minimum every month will not pay it off to save on interest.

Apart from that, because I have worked more than one job, I took on some contract cleaning work which means that I have now been landed with a rather large tax bill on top of all the other bills that I have every month.

I have been coping with this situation for seven years now and I am getting really really tired. We haven't been on a holiday for all that time either.

So I'm asking for a little bit of help to at least pay off those wretched credit cards. Any assistance would be greatly appreciated.
0 donations
since Jan 2017
---
Fundraising for
Andrew Bailey
I have been supporting my partner who has been ill for the last 7 years as hasn't been able to work so all of the financial burden is on me. In the past, I had to take on a few part time jobs to support us financially on top of my full time job. I would like to clear some credit card debt.
2nd Chance Cat Rescue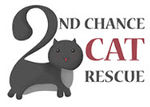 2nd Chance Cat Rescue is a registered Australian Charity and not-for-profit organisation run solely by volunteers in the south-eastern suburbs of Melbourne. Started in July 2011 with the purpose of re-homing desexed, vaccinated and micro-chipped cats and kittens to good homes. So far we have re-homed over 500 cats and kittens.
Campaign creator
Help with supporting longtime sick partner
Ringwood VIC
---
Share this campaign
Share your Fundraising Page link.
Leave a message
---
report fraud