Bring Scrambler to Australia
Because complex regional pain syndrome (CRPS), and other chronic pain conditions are life shattering to say the least, and not only for the person with the diagnosis, The Purple Bucket Foundation Inc. believe that every possible treatment, should be available in Australia.
With 3.2 million Australians suffering from chronic pain, this non-invasive, non-surgical, non-pharmaceutical pain treatment device offers great possibilities for people living with chronic pain and the Australian health system.
Help us Bring Scrambler / Calmare Therapy to Australia.

Our crowd funding campaign will allow The Purple Bucket Foundation Inc. to register this life changing, pain treatment device, with the TGA, pay for the first annual charge and continue to approach hospitals and other suitable practitioners; asking them to introduce the treatment to their pain management programs.
We also ask for your backing in raising our voice. By becoming a member of The Purple Bucket Foundation Inc., you allow us evidence of your support and the need for the Scrambler Therapy pain treatment device in Australia.
Scrambler / Calmare Therapy has been successfully used to treat conditions such as:
Complex Regional Pain Syndrome (CRPS) - Chronic Cancer Pain - Failed Back Surgery / Back and Neck Pain - Chemotherapy-induced Peripheral Neuropathy (CIPN) - Sciatic and Lumber Pain - Phantom Limb Pain - Post-herpetic Pain - Post-surgical Neuropathic Pain - Brachial Plexus Neuropathy - Fibromyalgia - Chronic Neuropathic Pain – Shingles - Diabetic Nerve Pain (DPN) - Trigeminal Neuralgia - General Neuropathy
One in five Australians, including adolescents and children, live with chronic pain. This prevalence rises to one in three of the older (over 65) age group. (Blyth et al. 2001)
Yet chronic pain remains one of the least understood and poorly resourced areas of healthcare.
More than 80 percent of people with chronic pain are missing out on treatment that could improve their health and quality of life.  (http://www.painaustralia.org.au/about-us/who-we-are.html)
Pain management is NOT a CURE! While it may be reasonable to never abandon hope for a better future, one must learn to accept the current reality and adapt as best as possible. There is no universal understanding of pain, nor a universal solution. As long as these elude us, cure is not possible. (http://nationalpainreport.com/so-what-is-pain-management-8829968.html)
Visit www.tpbf.org.au to find out more.
5 donations
since Oct 2016
Fundraising for
Purple Bucket Foundation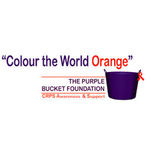 The Purple Bucket Foundation are committed to providing support and concise information relating to complex regional pain syndrome and other chronic pain conditions.
---
Share this campaign
Share your Fundraising Page link.
Leave a message
---
report fraud