Development through disability rights in Timor
Campaign creator
Sarah Haid and Jonio Soares
Fundraising for
Naroman ba Futuru disability rights centre, Dili, Timor-Leste
Want to be part of something amazing that is bigger than yourself? Naroman ba Futuru needs your help!

We are a young, dynamic and grassroots disability organisation in Timor, facilitating opportunities for education, training, entrepreneurship and social engagement. We are empowering people and enlivening civil society. We are Timor-based and driven, and there is no organisation quite like ours operating anywhere else in the country. We are working to support people with disabilities to dream big and achieve their goals in life, whatever those might be.

Now in our second year, we have an impressive track record of success. Our pilot program in Dili has supported dozens of participants and their families. We have held community events and celebrations to increase awareness, promote human rights and foster social cohesion. We have conducted outreach programs. We are now planning the next stage of our operations, which involves expanding the reach of our work.

Naroman is a vibrant and life-changing organisation. It is a place for people to feel like they belong and are valued. We are changing attitudes in Timor and nurturing a new generation of activists. But sustainable funding is a challenge. Pools of humanitarian aid are contracting around the world and the government in Timor remains unstable (at the time of writing, it had been dissolved). A few bucks goes a long way in Timor. Can you spare us the cost of a beer or a meal out? Or even a little more? Could you contribute in kind or provide us with some other sort of support? Anything at all would be gratefully received - we'd love to hear from you to discuss opportunities further.

Thank you so much - from a bunch of people you're likely never to meet, but to whom you mean so much.
32 donations
since Oct 2016
Fundraising for
Naroman ba Futuru disability rights centre, Dili, Timor-Leste
Naroman ba Futuru, Tetun for 'light for the future', is a new disability rights organisation Dili, Timor-Leste. Naroman aims to improve the lives of people with disabilities in Timor and, by doing so, create a more equitable, vibrant and productive Timorese society for all.
Campaign creator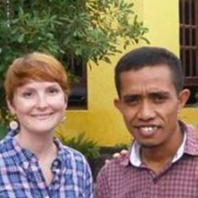 Sarah Haid and Jonio Soares
Glebe NSW
---
Share this campaign
Share your Fundraising Page link.
Leave a message
---
report fraud