Communities Assist | Help Us Build our first SPEC in Tanzania
Our vision for our first SPEC is to offer affordable vocational education and training in permaculture, mechanics, computer skills, sewing, music and even yoga to the Kili Kids and the local community, to empower them so they can ultimately become self sustainable!
Funds raised from this Crowd Funding Campaign will go directly to the construction of the Eco Vocational Education & Training Center including

~ Earth works necessary for levelling and footings including hiring of necessary equipment and man power;

~ Materials for concreting, insulation, doors, windows, roofing, solar panels and flooring;

~ Local labour for reusing 4 onsite shipping containers as classrooms; 

You can see our draft plans for the Eco Vocational Education & Training Centre attached.
Estimated to cost $50,000 AUD and...

our target is to raise this $50,000 AUD by 30th September 2017!
Help us help!
Please make a donation NOW!
With your help in the last 10 years Communities Assist managed to

~ purchase 5 acres of fertile land at the foot of Mt Kilimanjaro, Tanzania.

~ developed and established a flourishing permaculture program with the local community;

~ design and build 4 ecologically sustainable homes and a hall for local orphaned or vulnerable children and the community;

~ we are the legal guardians of 26 children orphaned by AIDS (known as the kili kids)

~ we provide safe and hygienic housing, 24 hour care, pay for their living expenses such as medical care, food, clothing, books etc., as well as paying for local school fees;

~ we employ 16 locals to care for the children, manage the land and the 5 acre site.
As you can see, all of your funds have been spent wisely with 100% of your funds going directly to the project and the children's welfare and community initiatives. 


Yes we've managed to do all this working as volunteers with volunteers!

Thanks to so many of you for your generous support and contributions over the last 10 years ...now it's time for us to focus on building the Eco Vocational Education & Training Center at Rainbow Ridge!

 
101 donations
since Oct 2016
Fundraising for
Communities Assist Australia - Kili Kids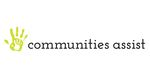 Communities Assist is an Australian grass roots NGO with a focus on children, communities and sustainability. Our first site is in Tanzania, Africa. We offer permaculture training, employ locals to manage the site, build eco homes and care for children orphaned by aids, provide medical care & more.
---
Share this campaign
Share your Fundraising Page link.
Leave a message
---
report fraud