Blind Tennis Players Go International
Fundraiser :
Blind Sports Victoria
4 donations
since Sep 2016
---
Blind Sports & Recreation Victoria is raising funds to take a team of blind and vision impaired adults to represent Australia at the first ever international blind tennis tournament being held in Spain from 6-13 May, 2017.

Whilst all our athletes are not elite, you will never come across a more determined group of people who navigate through life with great challenges.  Sport & recreational activities create confidence, social interaction, inclusion and many physical and emotional benefits.

Our aim is to ensure that as many blind and vision impaired athletes participate on a local and global stage to represent Australia in blind tennis - that's where you come in.


With your donation, you will help Blind Sports & Recreation Victoria pay for the logistics of making this tournament a reality. Your money will go directly to hotels, flights and tournament fees for each player and volunteer guides.   We are asking for your support to make this happen!


So if you can, please consider a donation to our team and we will be forever grateful.  
Any support you can provide is greatly appreciated.
www.blindsports.org.au / info@blindsports.org.au
4 donations
since Sep 2016
Fundraising for
Blind Sports Victoria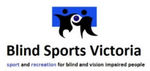 Blind Sports Victoria is recognised by Sport and Recreation Victoria as the State Sporting Association responsible for the development and promotion of sporting and recreation opportunities for blind and vision impaired people throughout Victoria.