Water. One of the basic necessities of life, and one that many of us take for granted. We use it for sanitation, hygiene and most importantly, drinking.
According to UNICEF, 663 million people world-wide are still without access to safe drinking water - this includes almost 80 million people in India alone. Instead, they use a common water source, such as rivers and lakes, which are contaminated with pollution, defecation and water-borne diseases including cholera, typhoid and diarrhoea.
To date, Mi-Link has been able to drill 96 wells in villages all over India. These have been in partnership with other organisations  as well as through our own donations and resources. We have seen incredibly positive changes in these villages by breaking the cycle of water poverty, decreasing the risk of disease, and providing life-saving, clean water to those who need it most.
As water is collected by mostly women and children and many have to walk long distances and spend hours doing so, this impacts on working, caring for family members, education, and their safety. All wells drilled with Mi-Link have been placed within close proximity to the villages to reduce the time spent collecting water, and allow safe and easy access for the whole community.
As part of our vision to drill One Million Wells, Mi-Link is aiming to drill 100 wells in Indian communities over the next few years. To complete these projects and reach this incredible goal, Mi-Link needs your support!
If your Church, group or organisation would like to be a part of drilling One Million Wells for India, please contact us. 
0 donations
since Sep 2016
Fundraising for
Mi-Link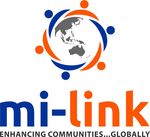 Mi-Link's vision is to 'enhance communities globally', through connections with pastors, churches and communities in Australia and overseas to establish sustainable projects which will enhance communities. Our projects include free education, free water and sanitation services.
---
Share this campaign
Share your Fundraising Page link.
Leave a message
---
report fraud