We bet you didn't know that Australia has a world champion Down syndrome swimming team who have been winning international championships every year since 2004.
Well we do!  And these swimmers are dedicated, successful, energetic, passionate and resourceful.
They are resourceful by necessity. These swimmers receive no funding and create their own opportunities and success through the support of their wonderful families, friends and networks.
At a cost of $300,000 to compete, they need your help to keep their dream of international gold alive.
In July 2016 the team of 22 swimmers will be competing in the Trisome Games in Florence Italy... but only if they can raise the funds to get there.  
The Trisome Games is a sports union for Down syndrome athletes, similar to their very own Olympics, with over 1000 athletes competing in 7 different sports.
Please help us to raise the $90,000 required for their airfares by contributing whatever you can afford. Every contribution, even the smallest donations, make a big impact on the team. What they value the most are the supportive messages that come through with the donations.  So even if you can only spare a few dollars, we would love for you to pledge it, along with a big message of encouragement for these inspiring and dedicated athletes.
Let's get these swimmers to Italy where they can represent our generous country and do us proud!  If we can get them there, we'd have no doubt that they have the skills to bring home the medals!
240 donations
since Jul 2017
Fundraising for
Down Syndrome Swimming Australia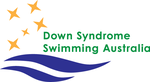 DSSA support people with Down syndrome access training coaching and competition in the sport of swimming. DSSA also manage the Australian Down Syndrome Swimming team, which have been world champions for the past 5 years.