Michael & Fizz's Appeal for Assistance Dogs Australia!
Seven years ago, 35 year old Michael Forbes was training for the Victorian State Cycling Championships when he was clipped by a passing truck and catapulted into a 4WD just 5km from home. A professional triathlete who had represented Australia at the world championships in 2002 and 2003, Michael sustained horrific injuries, breaking his cervical spine (neck) at the fourth vertebrae and ultimately leaving him a quadriplegic. 
Life as Michael and his wife Monica and baby daughter Ash knew it, would never be the same again.
 After a long and lengthy rehabilitation, 5 years ago Michael applied for an assistance dog through Assistance Dog Australia. While Michael's recovery had been remarkable to date, the use of his arms was still limited and he lacked the independance and freedom he yearned for. 
"Having to have someone with you 24 hours a day can be confronting," Michael states. "And being alone and not having anyone with you can be even more overwhelming."
In 2014 the Forbes family received the phone call they had been hoping for... Enter Fizz. 
Now Fizz is not your average labrador. Nor is he your average service dog. Specially trained for Michael's personality, energy and way of life, when you meet these two you can't imagine them ever being apart. Fizz brings Michael his crutches, picks up anything Michael drops and even brings the phone to him when it rings. 
"He allows me to be free. To be independent. To have reassurance that help is there if I need it but also time to myself," Michael says. 
"He has also assisted me with my relationship with my daughter, we go to the school together and everyone wants to meet Fizz, which allows me to be social and build relationships also."
Assistance Dogs Australia is a national charity which trains Labradors and Golden Retriever to perform everyday tasks, providing freedom and independence to people with disabilities. Assistance Dogs provide support to people with disabilities such as paraplegia, quadriplegia, cerebral palsy, multiple sclerosis, developmental disabilities such as autism, and mental health issues such as post-traumatic stress disorder (PTSD).
Michael is attempting to raise the $27,000 that it costs the charity to raise and train one of these remarkable dogs, which are provided entirely free of charge to those in need. With no government funding or support, individual donations are vital! 
''Please help me raise money so that somebody else can experience the independence and freedom that an assistance dog can provide for someone in a wheelchair.''
Why We Need Your Support?
Imagine what it would be like to lose the use of your hands. How challenging and isolating would your life become?
Or not be able to leave the house because of anxiety, depression or fear?
Imagine being the parent of a child with non-verbal communication skills, or a child who struggles with social interactions?
This is the reality for thousands of Australians every year. But with the help of an Assistance Dog, lives can be changed forever, through increased mobility, confidence and self-esteem, and a lifetime of support.
To train a dog to the level required by Assistance Dogs Australia can cost in excess of $27,000, and take over two years.
As a registered charity, accredited by Assistance Dogs International, Assistance Dogs Australia is committed to changing the lives of Australians, one dog at a time. Having already placed over 190 Assistance Dogs free of charge, and with an ever-growing waiting list of over 150 people, they hope to continue this very im-paw-tant work, thanks to your support and generosity.
All donations made will go a long way to helping train even more dogs in 2015/2016 and all contributions made are fully tax deductible. 
87 donations
since Dec 2015
Fundraising for
Assistance Dogs Australia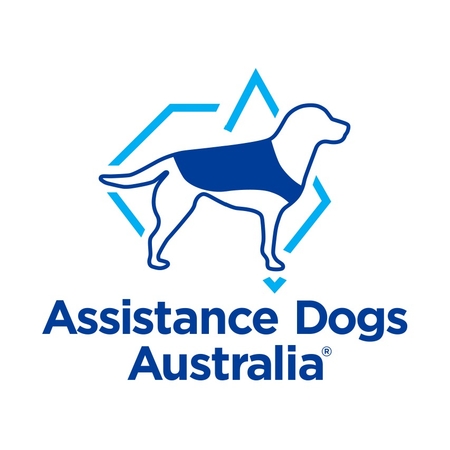 Assistance Dogs Australia is a national charity which trains Labradors and Golden Retrievers to provide freedom and independence to people with disabilities. Assistance dogs are matched, free of charge, with people with physical disabilities, autism spectrum disorders, and post-traumatic stress.