After the year that has been, it's Time to Catch Up on all the things that we've missed. Coffee dates with friends, beauty appointments we haven't been able to get to, and most of all, important health checks like our Cervical Screening Test (CST) that we've been putting off.
In March to June 2020, less than half the number of CSTs were performed in comparison to the same time last year. This is adding to the ongoing statistics that show almost half of Australian women are already behind in their cervical screening.
This year Australian Cervical Cancer Foundation (ACCF) is really encouraging anyone with a cervix to catch up on their overdue or missed screenings. Your donation to ACCF at this time will ensure we can spread this message far and wide across Australia, while also providing education and support to communities who need it most. 
By giving generously today we can ensure that Australia stays on track to eliminate cervical cancer by 2035. 
9 donations
since Nov 2020
Fundraising for
Australian Cervical Cancer Foundation (ACCF)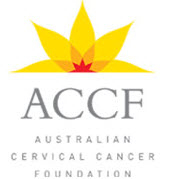 Australian Cervical Cancer Foundation is a young charity with a big goal; to eliminate cervical cancer. We do this by raising awareness and providing support for women in Australia and by enabling vaccination, screening and treatment for women in developing countries.
---
Share this campaign
Share your Fundraising Page link.
---
report fraud