Thanks for visiting my Fundraising Page for Shed Your Bed!

By sponsoring me in this effort you are helping me raise much-needed funds for Beddown, a registered charity with a mission to provide pop-up accommodation for Australia's most vulnerable. It's hard to imagine being homeless, let alone in the midst of a pandemic. Invisible, overlooked, and moved along. Tired and unsafe. And more than 8,000 Australians are living this way - every day - including 400 children under the age of 12. Everyone deserves a safe place to sleep. That's why I've decided to join the SHED YOUR BED challenge. It's a simple way all of us can make a difference, build awareness, and raise funds for people in our community who are sleeping rough, or vulnerable to homelessness.
4 donations
since Sep 2020
Fundraising for
Beddown Limited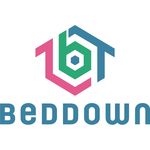 The aim of Beddown is to take spaces that are commonly used and busy during the day but at night are left vacant or empty. Beddown then activates and repurposes the space at night into pop-up accommodation to ensure the homeless, those who are sleeping rough are then able to come and get into a bed.