TSH - Hearing Well, Screaming Loudly
Thanks for visiting my Fundraising Page for QV1 Descent 2020!

The kids we help inspire us to go great things at TSH. Your support means that we can help even more people. You can sponsor my jump off the rooftop of the QV1 building and leave a message by selecting the donate button above.

Thanks for supporting my effort in raising money for children and families of WA.
47 donations
since Feb 2020
Fundraising for
Telethon Speech & Hearing Centre for Children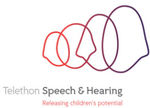 Telethon Speech & Hearing (TSH) is a proud WA success story, supporting the WA community for over 50 years. The only one of its kind in Australia. TSH brings together a range of interconnected supports for children with a hearing loss or speech difficulties to support them and their families.