Meat at Billy's Goodwill Bridge Swing
Hi guys, it's Billy here...

I'm feeling a little bit of de ja moo right now.

I'm about to swing off the Goodwill Bridge again – all in the name of charity – for our good friends at Hear and Say.

Meat at Billy's has been a strong supporter of Hear and Say for years now because I've seen first hand the undeniable difference they make in young children's lives.

This year I want to beef things up and I need your help!

I'm asking you, the Meat at Billy's community to support me by donating whatever you can, big or small. I don't want to milk you dry.

I want Meat at Billy's to be the number one cash cow on the day so we help change as many lives as we can.

Whatever you guys donate – Meat at Billy's will match – dollar for dollar!

If we don't raise enough money I'll be udderly disappointed.

Come on guys, let's moooove mountains and show them what Meat at Billy's is all about.

Excuse all of my meat puns.
31 donations
since Feb 2019
Fundraising for
Hear and Say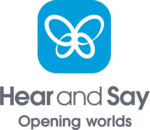 Hear and Say provides children who are deaf with opportunities to reach their full potential in life unlimited by hearing loss. Established in 1992 we are a Queensland-based charity with the key objective of enabling children with hearing loss to learn to listen and speak.