Thank you for visiting our Fundraising Page for the QV1 Descent which is the highest single pitch building abseil in WA - but we need your help!

We are participating in this extreme event to support the Gilbert's Potoroo Action Group in all the amazing work they do to try and help save Australia's rarest mammal.

Gilbert's Potoroo was thought to be extinct for over 100 years before it was rediscovered at Two Peoples Bay near Albany in 1994, but it is still Critically Endangered with only 100 individuals known alive. That is much rarer than some of the most well known endangered species in the world such as the Giant Panda, Mountain Gorilla and Snow Leopard, and it occurs right here in Western Australia! We thought we had lost it forever, but we have been given a second chance, and it needs all the help we can give it to make sure that it can survive into the future.

By hitting the "donate" button you will be supporting this amazing charity and the beautiful animal that we are trying to help save from extinction. Every dollar counts and is hugely appreciated! Thank you.

You can find out more about Gilbert's Potoroo and the fantastic work being done by the Gilbert's Potoroo Action Group volunteers by following them on Twitter @gilbertspotoroo or Facebook @GilbertsPotorooActionGroup or visiting their website at www.potoroo.org.
143 donations
since Dec 2018
Fundraising for
Gilbert's Potoroo Action Group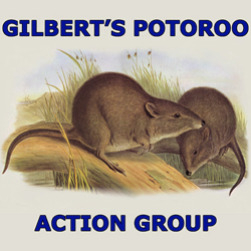 The Gilbert's Potoroo Action Group is a volunteer community group helping save Gilbert's Potoroo from extinction by raising funds, providing volunteer support & increasing public awareness. Gilbert's Potoroo is the world's rarest marsupial & is Critically Endangered with only ~100 animals known.