For Coco Jessie Channells
Thanks for visiting my Fundraising Page for Heartfelt!

Heartfelt is a volunteer organisation of professional photographers from all over Australia and New Zealand dedicated to giving the gift of photographic memories to families that have experienced stillbirths, premature births or have children with serious and terminal illnesses.

Heartfelt is dedicated to providing this gift to families in a caring, compassionate manner.

Thanks for supporting our efforts in raising money for this cause!

OUR STORY

In memory of the love we have for our daughter Coco Jessie Channells who was delivered on Tuesday 29th May 2018 at 7:12am.

Below is what happened to us.

Friday 25th of May 2018 was my last day of work and the start of my (Kirby's) maternity leave. Our baby was due on the 27th June 2018, but we had scheduled the Caesarean for Monday 18th June 2018 Coco was bum first in my tummy. Coco's gender was a surprise until she was delivered, but I will speak her name and gender in the story that follows.

On Monday 28th May 2018, my first day of maternity leave, our family found out that Coco at 35+5 weeks gestation had no heartbeat after a day of no movements. We were due for our scheduled Caesarean exactly three weeks later on Monday 18th June. As you can imagine, this is the worst news any expecting parent and family can receive. And we are all completely and utterly devastated. Coco was so loved by her Mummy and Daddy, and big sister Piper, and everyone who knew us leading up to her birth.

I went to the birthing suite and Newcastle Private Hospital by myself as I thought everything was going to be okay and he visit was more for my piece of mind. How wrong I was. At 9:30am or there abouts on Monday 28th May a midwife named Glenda checked for Coco's heartbeat. She wasn't able to find one. I rang my husband Daniel and he immediately left work that is an hour or so away from the hospital and was at my side by 10:30am or so. During that time the birthing suite manager Susan came in and checked for a heartbeat again, she wasn't able to find one either. My obstetrician Lyndal Harborne was busy at the time and would be over as soon as she could to do a scan to see if a flicker of a heartbeat could be seen. Lyndal asked another obstetrician Jillian Spilsbury to come and do the scan for her. In was official, our baby Coco didn't have a heartbeat. Once Daniel had arrived Lyndal was there as well. She was and continues to be amazing. She feels our pain, but she was and is so professional and dedicated to baby Coco and us. She scheduled our delivery to be at 7am on Tuesday 29th May 2018. After a couple of hours we went across to Jillian Spilsbury's rooms for an official scan, to check Coco's growth and for any abnormalities, there were none. She was perfect, except her heart had stopped beating.

After spending four hours or so in hospital, we went home to figure out how we were going to tell our four-year-old daughter Piper that this terrible and unexpected thing happened to her baby brother or sister. Despite our own grief, this task was so heart breaking in itself. We had to tell Piper that the baby in Mummy's tummy wasn't alive anymore and had died because his or her heart had stopped beating. "But I want my baby sister or brother," Piper said starting to cry and leaning in for a cuddle. We continued to explain saying that Mummy has to go to hospital and have the baby, but that we wouldn't be able to take the baby home with us. Reiterating each time that Coco's heart was no longer beating and that she had died.

On Tuesday 29th June we awoke early to be at the hospital by 6am. When I first awake there was a brief moment where this had all been a dream - but reality hit hard. We arrived at the hospital and we taken to our room in the birthing suite. We met our midwife Cheree who helped get me ready. I walked to the theatre room with the anaesthetist John Matheson and everything started to happen. I sat on the edge of the bed, not unlike last time with Piper. But the feelings and emotions were definitely not the same. Daniel and I were both crying, devastated that something like this has happened to us, and can happen to other people. We knew we wouldn't be able to look into our baby's eyes and take her home. It was shit. The pain of everything was made so much worse by this fact. The local anaesthetic went in, along with the epidural. The pain was horrendous, I was shaking and once all of that was done, the colour of Daniel's face got whiter and whiter. He became very light headed and almost passed out. The doctors and nurses were able to help him and after what seemed like an eternity, but was only five or so minutes, he was back up and holding my hand.

Everything seemed so different this time, the emotional pain coupled with the physical feelings of what was happening. Lyndal then brought over our baby and told us that we had had a girl. A little sister just like Piper had wanted. Lyndal placed her onto my chest. She looked perfect; everything about her was perfect, except she had no heartbeat. We spent many moments looking at our new darling daughter wishing that this was all a bad dream and that she would come back to us. Daniel and I were in awe of her beauty and of each other. As I was wheeled into recovery Daniel held our baby girl, and as he passed her over to me we discussed her name. We decided on the name 'Coco' as Piper had been calling the baby in Mummy's tummy 'Coco' for about three months. And because Coco is a girl, we thought it fitting as Piper had already made an attachment with the baby and that name. If we were to have named her something else, we wouldn't have had the opportunity to become familiar with that name like most families do when they take a baby home, because we couldn't take our baby home. Coco's middle name is Jessie after my Grandma, meaning that her initials are CJ, and Piper's initials are PJ. "CJ and PJ," Piper said when we told her.

Once out of recovery we went back to our room in the birthing suite and spent some time cuddling Coco before Piper came in to meet her baby sister that she would never be able to take home and play with. Piper was thrilled to know she had a baby sister, and acted like any four year old would Meeting a new baby. Except Coco wasn't alive and didn't do the things that babies do. Piper held Coco many times, have her kisses and cuddles, helped give her a bath as this was something we had talked about many times. Piper was and continues to be amazing, our light source of joy. She knows we are upset and tries to do nice and silly things to make us smile and laugh.

Every moment that followed after has been just as difficult. From getting Heartfelt photographs taken only a few hours after Coco was born, to getting impressions of Coco's hands and feet, to talking with a psychologist, placing Coco down in the cuddle cot and not being able to feel the warmth of a newborn baby, not being able to feed her and stare into her eyes for endless amounts of time, and just be in awe of this baby that my husband and I created and love. Our hearts continue to break each moment of the day.

Coco's service was on Monday 4th June. This was another hard day for all of us. We spent so long wishing for this baby to be in our lives, loving her endlessly each day inside my belly, for her to not come home with us. We are broken, and our hearts with never fully heal. We will always love and remember you Coco. You are our daughter, our little sister, our granddaughter, our niece and our friend. You have so many people on Earth and beyond that love you endlessly. The ones with you now will continue to look after you until we meet again.

Each day continues to be a struggle. But we are getting there one step at a time. Our photos from Heartfelt allow us to remember Coco in a more hands on way.

We love you Coco Jessie Channells, so much, and as Piper has told us many times, "you are playing in our hearts and in our dreams".

We are fundraising in memory of Coco Jessie Channells. We are raising money for a cause that's close to our hearts - Heartfelt AND Stillbirth Foundation Australia AND Bears of Hope. Please support our efforts by making a secure online donation and by posting a message of support. We have fundraising pages set up through gofundraise.com.au (https://inmemory.gofundraise.com.au/page/KirbyChannells0 and https://inmemory.gofundraise.com.au/page/KirbyChannells1).

Donations made through this platform are secure and will be remitted directly to Heartfelt.

We want to make a difference in reducing the number of stillbirths in Australia. There are six babies a day that are stillborn and six families a day that are going through what we are currently going through. Heartfelt were there a couple of hours after Coco was born to capture the precious time we had with our little angel. The images that Heartfelt have given us has allowed us to grieve in our own way, and remember that our little Coco is a big part of our family even though she isn't with us in the flesh.
Making a difference to reduce this number is going to be done through research funded by Stillbirth Foundation Australia. We also want to help families like us who are going through this same experience. The Bears of Hope charity provided us with resources and information to help us deal with the loss of Coco, as well as the 'cuddle cot' which enabled us to have Coco by our side in hospital. We needed all the time we had with her.

Thanks so much for your support!
3 donations
since Jul 2018
Fundraising for
Heartfelt Giving the Gift of Photographic Memories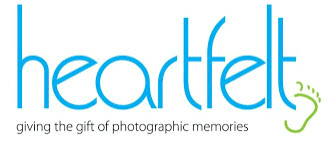 Heartfelt is a volunteer organisation of professional photographers dedicated to giving the gift of photographic memories to families who have experienced stillbirth or have children with serious or life threatening illness. All services free of charge and donations are tax deductible.