AHF Himalaya Schools Trek - Neil
Thank you for visiting my Fundraising Page for the AHF Himalaya Schools Trek 2017!

I'm excited to be participating in another fundraising trek in Nepal in September - October this year to help support life-changing projects for the remote Himalaya villages. Our trek group aims to raise a minimum of A$25,000 this time and I'm aiming to personally raise a minimum of A$5,000 for AHF education projects in Nepal.

I've been an active supporter of the AHF for several years; as have several of my colleagues at the Intelligent Risks Group (IR). We've been inspired by its work supporting the people in the poorer, more under resourced and disadvantaged areas of Nepal and Bhutan and particularly in the Himalaya region.

Here are some of the AHF's achievements:

1. The AHF currently funds over 700 annual student scholarships in the Himalayan region

2. The AHF has provided training to over 1,500 teachers in the Himalayan region

3. The AHF is providing assistance to over 350 schools in the Himalayan region.

The AHF is a registered Australian NGO with tax deductibility status and accredited with the Australian Government overseas aid program. Most importantly, it has a fantastic "teeth to tail" ratio: most of the money it raises goes to the programs and the costs for its small core of dedicated staff and volunteers are minor in comparison with what it spends making a very real difference to the lives of people in the remote Himalaya communities!

Please help the AHF by hitting the 'Give Now' button. Even a modest donation will make a big difference. And the more people that know about the work of the Australian Himalayan Foundation, the greater its impact. So please spread the word by sharing this page with your friends and family.

Thank you in advance for your generosity, every little bit helps! Ferg.
49 donations
since Jul 2017
Fundraising for
Australian Himalayan Foundation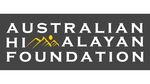 The Australian Himalayan Foundation is working in partnership with the people of the Himalaya to improve outcomes in education, health and conservation across Nepal, Bhutan and India. We work with these communities to help the most disadvantaged meet their needs.