Katie from @sustainabilityinstyle and myself (@4x4_Rookie) are joining forces again this year and taking the Mindful in May challenge and encouraging everyone to join the team.

So what's invloved and why you ask? Well firstly it raises money and awareness to provide clean drinking water to those in need (1 in 10 people on the planet that live without access) and secondly we all get caught up in the stresses of daily life, and learning how to meditate is just one way we can reduce that stress (can't always head out to nature to reset now can we?!). All that is involved is an online ten minute a day meditation challenge for the month of May and learning how to meditate with some of the world's best meditation teachers. Win/Win right??

Please sponsor us to help us stay accountable to the practice by clicking the donate button above. :) or better yet... join our 'InstaMates' Team and receive the online program too - you'll need to register at www.mindfulinmay.org and just choose "join a team". Team name is InstaMates

This year $50AUD is all it takes to bring clean water to one person for life!

Thanks for supporting our efforts in making a positive impact towards solving the global water crisis.
1 donations
since Apr 2017
Fundraising for
Charity Water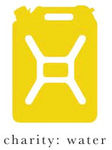 Charity: water brings clean and safe drinking water to people in developing countries. For $50AUD you can bring one person clean water for life. Donations are only tax deductible if you are based in the USA.