Thanks for visiting my Fundraising Page for Mindful in May!

I'd be so grateful if you support me in taking this ten minute a day meditation challenge. Your donations will not only keep me accountable and motivated but more importantly will contribute to transforming lives in the developing world.

You can help to change one persons life through helping them to access clean, safe water by donating to the cause. It costs only 30$ to bring clean water to one person for life. That's a pretty amazing gift to give someone this May.

You can sponsor me and leave a message by selecting the donate button above.

Thanks so much for supporting our efforts in raising money to help address the global water crisis.

Some more water facts:

One in nine people on the planet struggle each day to access clean, safe drinking water
Every 20 seconds a child dies due to a contaminated water illness
90% of the 30,000 deaths that occur every week from unsafe water and unhygienic living conditions are in children under five years old.
In Africa alone, people spend 40 billion hours every year walking for water.

9 donations
since Apr 2015
Fundraising for
Mindful in May for Charity Water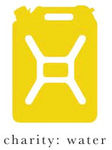 Charity: water brings clean and safe drinking water to people in developing countries. For $50AUD you can bring one person clean water for life. Donations are only tax deductible if you are based in the USA.