Winners and Grinners is a team consisting of deaf and hearing paddlers.
for some it Is our 6th year paddling at Dragons Abreast..each year we raise awareness amongst many of our friends and recruit new paddlers each year.
We continue to come back to such a great event as we love the atmosphere



Thanks for visiting our Fundraising Page for the 2014 Dragons Abreast Festival.

The Dragons Abreast Festival, a dragon boat regatta, is the major annual fundraiser for Dragons Abreast Australia (DAA). DAA is a national not-for-profit registered charity raising breast cancer awareness through the sport of dragon boating and giving hope to those with a diagnosis of breast cancer, regardless of age, gender or sporting ability. Dragon boating is the fastest growing water sport in the world.

Please sponsor us and leave a message by selecting the donate button above.

Thank you for supporting our efforts to raise money for this unique organisation!
48 donations
since Jun 2014
Fundraising for
Dragons Abreast Australia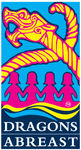 Dragons Abreast Australia promotes breast cancer awareness and education, primarily, but not exclusively through the sport of dragon boat racing. The members that race in dragon boats are the very public face of Dragons Abreast Australia.