End of Financial Year Appeal
Seeing a child's disappointment when they miss out because they have a disability is heart-breaking!
We need your help to change that today.
Australian families are spending more time at home as we adapt to our 'new normal'. It's no surprise that bike sales are going through the roof across Australia as families enjoy the fun and benefits of cycling and outdoor activities together.
But not every child can ride a standard bike. A child like Sophie, living with disabilities doesn't have the balance or physical ability.
We're sure you'll agree that no child should have to sit on the sidelines and miss out on joining in the fun with their family or friends because their disability prevents them from riding a standard bike.
It's simply unfair!
That's why we are hoping you can send a gift today to give children living with disabilities a chance to ride their very own bike. One that has been custom-made just for them.
A child with disabilities needs what we need, to be participating in activities with their friends and to have new and fun experiences.
Solve exists to help children and adults, living with a disability, find freedom and independence through custom-built, unique solutions which also includes our Freedom Wheels bikes.
We are sure you will agree that Freedom Wheels is an invaluable lifeline to children who feel excluded from activities with their siblings or their friends.
Sophie was unable to walk unassisted until she was five years old.
Born with Down Syndrome, Sophie struggled with her mobility and needed a walking frame and a special type of compression suit to help her move her muscles.
Her parents Jamie and Samantha were heartbroken as they watched little Sophie trying to walk when she couldn't.
"She would get so frustrated. But it was even harder after her little brother Logan was born. He started to walk before she did. I could tell how that made her feel. And when you see your little baby like that, feeling left behind, it's heart-breaking beyond words…" Sophie's dad, Jamie, said.
It's hard to imagine what Jamie and Samantha were going through, seeing their daughter struggling with something that most children without disabilities just take for granted.
So you can see why they thought that riding a bike was something else that Sophie would never get to do.
"Because Sophie didn't walk until she was five, I thought riding a bike was out of the question. It was devastating. It is such an important part of childhood. I hated to think that Sophie would miss out, just because of her disabilities," shared Jamie.
This is why we really need your help today.
Because without the support of good people like you, we would not be able to provide the support and unique equipment needed to help kids like Sophie.
Each bike costs on average $1,500 and is so specialised. They are custom-built to suit each person's unique abilities and the quality ensures they are safe and secure for kids like Sophie.
You can be part of a unique group of people today and help purchase a bike for a child with disabilities. Your gift will go towards the design and customisation of a brand new Freedom Wheels bike for kids like Sophie.
It is a group of compassionate people like you, who are concerned for people living with disabilities that helped Sophie get her first Freedom Wheels bike.
Whatever donation you give, you will be bringing so much joy to a child who has missed out for too long.
Each year we help more than 500 people with disabilities because of generous people like you. We are not quite there yet, but with your help, we can be.
The bikes are built and assembled by our skilled volunteers in our dedicated makerspaces in Abbotsford, Victoria.
Sophie isn't able to ride a standard off-the-shelf bike on her own. She doesn't have the strength to stay on the seat or to press the pedals while trying to balance.
Without her own Freedom Wheel's bike, she was left walking alongside her parents, watching her brother Logan ride alone.
"The first time she rode her bike I saw a light bulb go on inside her head. She was thinking, 'oh wow! I can be independent, I can get places, I can go exploring'," Jamie said.
Every child experiences fun and excitement from riding a bike, but a Freedom Wheels bike brings much more than that to a child living with disabilities. The achievement of riding a bike for the first time can have a significant impact on their life.
A Freedom Wheels bike is an essential tool for helping children with disabilities build physical strength in their legs and bodies, and they are an incredibly powerful device to help them develop a strong sense of independence.
In fact, it's why we call them Freedom Wheels. Sophie's journey is just one example of this.
"It can't be overstated, how much of a difference the bike has made in our lives," said Jamie. "Sophie's stamina and her coordination started improving immediately, and she's much more confident on her feet too. I love seeing her skills develop," Jamie shared with us.
A lot of families receive funding for their bike from the National Disability Insurance Scheme (NDIS), but there are families who are just as deserving but do not receive any financial support.
We are urgently needing to raise $40,000 before 30 June to provide custom-built Freedom Wheels bikes for 23 children on our waiting list. 
That's why we are counting on your help. Children like Sophie need us - and you, to help them gain independence, but more than that, to help them feel included and confident.
Some of the kids that come to us are living with low vision or blindness, or they have physical and intellectual disabilities that make it impossible to ride a standard bike.
But they CAN ride a custom-made Freedom Wheels bike.
That is why we are asking for an urgent gift today. It can transform a kid's life!
The children we help face challenges every day. A Freedom Wheels bike can be the tool that awakens their senses to possibilities for their lives.
But we can't do it without you.
"Once we found Freedom Wheels, and Sophie got her bike, she hasn't looked back. It has been fantastic to see her develop such confidence. I'm looking forward to seeing where it takes her - literally and metaphorically," he said.
And people like you, are the key to making those dreams come true.
Can we count on you today?
18 donations
since May 2021
Fundraising for
Solve Disability Solutions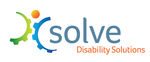 Solve Disability Solutions designs, construct or modify equipment for people with disability when no commercially available product will meet their needs. Solve manages the application of volunteer with technical and engineering skills in concert with health professional advice.
---
Share this campaign
Share your Fundraising Page link.
Leave a message
---
report fraud