Help us create a culture of freedom by donating to The Festival Fund!
We want to establish an annual All Minus One festival that celebrates and encourages truly free expression in any medium.​
The festival will feature thinkers, creatives, and tastemakers both famous (or infamous) and up-and-comers who share our mission to create a culture of freedom. 
​It will have platforms for speakers, stages for performing arts, projectors for films, gallery spaces, market stalls, food trucks, pop up bars, and surprises. Most importantly it will have a festive atmosphere where people can relax, have fun and make new friends. 
​To turn this vision into a reality we have launched The Festival Fund. 
A festival is a capital-intensive project. So we need your help to get started.
​Our aim is to raise $250,000 in a year so we can make the first ever festival a blast!
4 donations
since Feb 2021
Fundraising for
All Minus One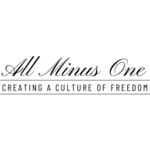 All Minus One is a cultural organisation for thinkers, creatives, and tastemakers that unapologetically defends freedom of speech and protects and promotes liberty as a core Australian value.
---
Share this campaign
Share your Fundraising Page link.
Leave a message
---
report fraud