Astronomical Society of Victoria Inc. 'Pathways To The Planets'
At the Astronomical Society of Victoria (ASV), we believe that everyone should have the opportunity to learn about and observe the wonders of our universe.
That's why we've initiated our Pathways to the Planets project – to raise valuable funds for improving the facilities at our dark sky site which will enable access to the site and purpose built astronomical equipment for limited mobility and low vision observers.
The Leon Mow Dark Sky Site (LMDSS) is situated just north of Heathcote (VIC) away from the light polluted skies of Melbourne and is home to:
The Jim Trainor Visual Observatory (JTVO), containing a 40" and 18" telescope, plus a number of smaller telescopes and binoculars.

A Visual Observing Field, for rolling out the 25" visual telescope, 102 & 60mm solar telescopes, and for setting up your own visual observing equipment.

The Leon Mow Radio Observatory, containing an 8.5m radio dish, weather station, seismometer, radio jove receiver, lightning detector, whistler receiver & e-callisto.

A 3m fully automated Astrophotography Dome, housing a telescope & camera for imaging the night sky.

An Astrophotography Field including powered piers and plenty of space for setting up your own astrophotography equipment.

A clubroom with kitchenette and BBQ facilities

An accommodation block and facilities block, containing 8 bunkrooms (4 beds each), showers and toilets.



Over the next 12 months, our volunteers will be campaigning hard to raise the necessary funds for the following four upgrades to the site:
Replace the current swing gate with a motorized entry gate and electronic lock (accessible from a car driver's window) to facilitate easy access to the site.

Build reliable, sealed pathways between the car park and facilities (accommodation, clubroom, observatories), providing safe movement in dark conditions for all.

Construct an accessible observatory and 'Nasmyth' telescope, for wheelchair access and seated observing.  

Construct remote controlled astrophotography observatories to provide access to telescopes for people who are unable to physically attend the dark sky site or unable to observe through an eyepiece.



The purchase of all of our incredible facilities and equipment are a result of fundraising and the generosity of our amazing members who are so passionate about sharing their collective knowledge of Astronomy.  The Pathways to the Planets project will cost the ASV a whopping $180,000 to implement.  We are so grateful to have already secured a grant of $50,000 as well as $50,000 worth of in-kind services in order to get this project off the ground.  With only $80,000 left remaining, that's where you can help!  Please consider a donation to this valuable cause or help us to spread the word about this exciting project by sharing this page with your family and friends.
Stay tuned for some exciting announcements coming soon about fundraising activities where you can join in the astronomical fun!
Want to join the Astronomical Society of Victoria?  Visit www.asv.org.au/join 



---

Offline donations:

- Proceeds from the ASV September Online Star Party = 3640

- Proceeds from the ASV Halloween Raffle = $600

- Proceeds from the VicSouth Raffles = $1382.50

- Proceeds from the 2020 Star-B-Cue Raffle = $8095

- Proceeds from Love Under The Stars (Valentine's Day) event = $2743
31 donations
since Jun 2020
Fundraising for
Astronomical Society Of Victoria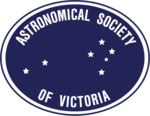 The Astronomical Society of Victoria (ASV) was founded in 1922 and is located in Melbourne, Australia. The ASV is the largest astronomy group in the Southern Hemisphere with members located not only throughout Victoria, but across the globe!
---
Share this campaign
Share your Fundraising Page link.
Leave a message
---
report fraud