Help blind tennis players score an advantage...
Funds go to
Blind Sports Victoria
Could you play tennis blindfolded? Imagine having to run in to the net, volley and lunge for a wide ball without being able to see your way. ABC TV's Charlie Pickering gave it a go - view our video above to see the result!

Our blind tennis/vision impaired tennis players rely on their directional hearing to locate an audible ball containing a bell. But that doesn't make it any easier - running and aiming for a moving ball without your vision takes courage, persistence and skill.

Six Victorians and three players from South Australia will represent Australia and compete against 14 other countries at the 2019 International Blind Tennis Tournament in Spain. We need your help so they can meet the high costs of competing; including airfares, shared basic accommodation, registration costs and sight classifications.

Players will be supported by a small number of trained volunteers to assist them with guiding, orientation and everyday tasks.

Make a fully tax-deductible donation now and help provide much-needed support for our talented and dedicated players!
2 donations
since Oct 2018
Fundraising for
Blind Sports Victoria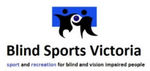 Blind Sports Victoria is recognised by Sport and Recreation Victoria as the State Sporting Association responsible for the development and promotion of sporting and recreation opportunities for blind and vision impaired people throughout Victoria.